When it comes to selecting the right materials for your roof, Blue Monkey Roofing LLC has the experience to help you find an appropriate solution that's right for your home. Let our years of experience be your guide! Since 2011, Blue Monkey Roofing LLC has specialized in all types of roofing materials, including standard and specialty shingles, metal, and flat roofs. Blue Monkey Roofing LLC is proud to provide quality workmanship and high-performing products for every client, every time.

STANDARD & SPECIALTY SHINGLE ROOFS
The installation of roof shingles is a project that requires experienced tradesmen. Blue Monkey Roofing LLC has been installing roof shingles in Acadiana for over 10 years, with superior products and experienced contractors. Shingles are the most common materials used for roofing and are constructed of various interlocking materials like wood, asphalt, or metal, creating a waterproof barrier to protect your home.
There are a variety of colors and roof shingle materials available to choose from, with a wide range of prices to meet almost any budget and style. Specialty shingles are also available, which provide more protection than standard shingles with a high-end look. These specialty shingles are made to look like more luxurious materials like slate and cedar without the high price tag. They are more affordable, more durable, and just as beautiful as their natural counterparts.
SOME OF THE SHINGLE ROOFING STYLES WE CAN PROVIDE:
Shake Shingles
Asphalt Shingles
Fiberglass Shingles
Cedar Shingles
Concrete Shingles
Clay Shingles
Composite Shingles
Slate Shingles
Wood Shingles
Metal Shingles
FLAT & LOW SLOPE ROOFS
There have been major advances made in the materials for Flat roofs, RV roofs, and low slope roofs in the last twenty years. Blue Monkey Roofing LLC has comprehensive knowledge of new and traditional flat roof materials, as well as the newest liquid roof products on the market today. If you need flat roof installation, restoration, or repairs, we offer solutions that will provide you with a protective, waterproof roof to help minimize your maintenance and energy costs.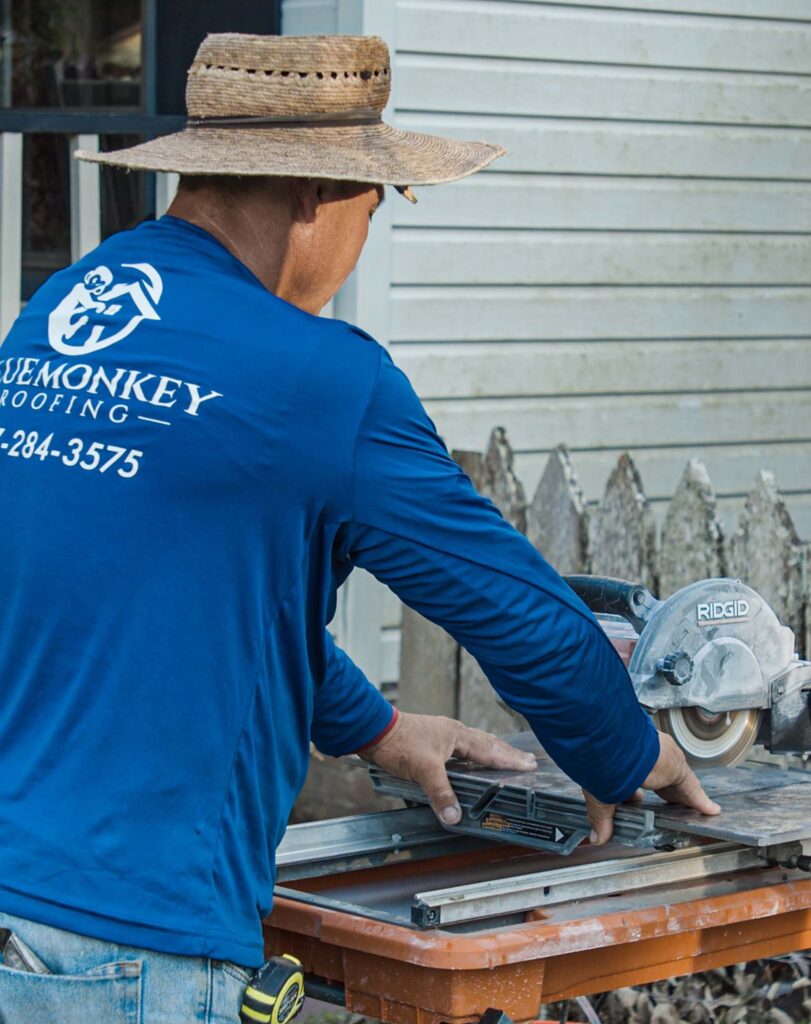 WHAT KIND OF SHINGLES ARE BEST FOR A ROOF?
All shingles perform their best when properly installed, but some are better quality than others. The most common type of shingles are asphalt shingles, but these generally only last up to 30 years. The most durable roofing material with the longest life expectancy is slate, however, the price of a slate roof makes this option much less accessible than asphalt.
WHAT ARE THE LONGEST-LASTING ROOF SHINGLES?
The longest-lasting roofing material would be slate, which maintains its integrity for about 150+ years.
WHAT ARE THE BEST ROOF SHINGLES FOR HIGH WINDS?
For high wind, there are a few options that give the most protection. A properly installed roof can handle most strong winds and gusts, but some materials handle these hurricane-force winds better than others. Fiberglass asphalt shingles are the most affordable option but must be properly secured to withstand high winds. Metal roofing is also a great option, but these roofs tend to be more susceptible to dents and scratches from flying debris. The structure of your home can play a major factor in wind resistance, as lower-pitched and four-sided roofs handle extreme winds better than high gables with wide overhangs.
WHAT TYPE OF ROOFING LASTS 100 YEARS?
Slate is the longest-lasting roof shingles, with a whopping 150+ year lifespan. Concrete and clay tiles come in second place right at around an average of a 100-year lifespan. Extending the life of your roof, no matter what material, is what we do at Blue Monkey Roofing LLC! Give us a call for a FREE initial inspection today!
WHAT IS THE BEST ROOFING MATERIAL FOR MY HOME?
Every home is different, and not every roofing option will work with every roof. There are hundreds of options for your roof, and not enough space to list them all! We have all the popular options for you to choose from, plus new and innovative materials. You can get both beauty and functionality out of your new roof with the superior materials and expert installation at Blue Monkey Roofing LLC! Schedule a consultation today to talk with one of our roofing professionals and see all your options and get started with your new roof today!
WHAT ARE THE MAIN TYPES OF ROOFS?
The main types of roofs include asphalt shingles, metal roofs, tile roofs, and flat roofs. At Blue Monkey Roofing, we have experience working with all types of roofs and we'll recommend the best option for your specific needs.
ARE THERE DIFFERENT ROOFING TYPES BETWEEN COMMERCIAL AND RESIDENTIAL?
Some roofing types, such as flat roofs, are more commonly used on commercial buildings, while others, such as asphalt shingles, are more commonly used on residential buildings. But at Blue Monkey Roofing, we can handle any type of roofing needs, whether it's for a commercial or residential building.
WHAT ARE THE BEST TYPES OF ROOFS?
The best type of roof will vary depending on the specific needs and conditions of the building and the area. It's best to consult with a professional roofing contractor like Blue Monkey Roofing to determine the best type of roof for your specific needs.
WHAT IS THE MOST POPULAR ROOF?
Asphalt shingles are the most popular roofing material in North America. And at Blue Monkey Roofing, we have extensive experience working with asphalt shingles and will ensure a quality installation.
HOW LONG CAN A ROOF LAST?
The lifespan of a roof can vary depending on the type of material used and the quality of installation, but on average, a roof can last between 15-25 years. At Blue Monkey Roofing, we'll make sure your roof lasts as long as possible with regular inspections and timely repairs.
CAN YOU CHANGE WHAT ''TYPE'' OF ROOF YOU HAVE?
Absolutely! It's possible to change the type of roof on a building, whether it's from asphalt shingles to a metal roof or a flat roof to a tile roof. At Blue Monkey Roofing, we'll work with you to find the best solution for your specific needs and budget.
WHAT TYPE OF ROOF IS THE MOST ENERGY EFFICIENT?
A reflective roofing material, such as a metal roof or a white or light-colored asphalt shingle roof, can help to reduce heat absorption and improve energy efficiency. At Blue Monkey Roofing, we'll recommend the best option for your specific needs and budget.
WHAT TYPE OF ROOF IS THE MOST EASILY DAMAGED BY HIGH WINDS?
Flat roofs are more susceptible to wind damage than other types of roofs, such as steep-slope roofs with a higher pitch. At Blue Monkey Roofing, we'll take into consideration the local weather conditions and recommend the best option for your specific needs.
FLAT ROOF REPAIR & INSTALLATION BY BLUE MONKEY ROOFING LLC
Blue Monkey Roofing LLC is a local favorite for skilled installation and repair of flat roofs. We work with superior quality materials while following best practices for exceptional workmanship. If you have a flat roof that needs waterproofing or repairs, contact the Blue Monkey Roofing LLC. We have extensive experience with residential and commercial flat and low slope roofs. Blue Monkey Roofing LLC is unsurpassed in the industry, providing experience and high-quality materials for every job. Call us and we will recommend a course of action and the right products for your building.
TYPES OF FLAT ROOFS INCLUDE THE FOLLOWING:
Modified Bitumen Roofs (MB roofs)
Asphalt-based MB roofing
Mineral or gravel surface roofs
Single-ply Roofs
EPDM Roofing (Rubber Roofs)
PVC Roofing
TPO Roofing
Built-up Flat Roofing (BUR or "Tar & Gravel" roofs)
Asphalt BUR
Coal Tar BUR
METAL ROOFS
Metal Roofing has been gaining popularity with the increasing interest in energy-efficient roofing materials. They are an attractive option for residential roofs, and Blue Monkey Roofing LLC has installed a variety of metal roofs for customers who want a durable and low-maintenance roof that is also aesthetically pleasing. You can rely on Blue Monkey Roofing LLC to perform your metal roof installation with the highest standards of craftsmanship.
METAL ROOFING EXPERTS
Today's metal roofs are made to look like other roofing products. They can be any textured, patterned, or colored. There are metal shingles, metal tiles, and metal shake roofing materials available, along with a wide variety of other metal roofing products. With our extensive knowledge of metal roof materials, Blue Monkey Roofing LLC can expertly install or repair your metal roof. Metal re-roofing is also a great option for those who want to change to a more sustainable roofing material!
CALL BLUE MONKEY ROOFING LLC TODAY FOR YOUR RESIDENTIAL METAL ROOF PROJECT AND UTILIZE OUR 10 YEARS OF EXPERTISE IN INSTALLING THE FOLLOWING METAL ROOF PRODUCTS:
Galvanized Steel Roofs
Aluminum Roofs
Stainless Steel Roofs
Zinc Roofs
Copper Roofs
Titanium Roofs
Tin Roofs
Standing Seam Metal Roofs
Corrugated Roof
AFFORDABLE, RELIABLE METAL ROOFING
Blue Monkey Roofing LLC would be happy to give you more detailed information on the many different products for metal roofs and show you how we could enhance your home or building with these innovative materials. Call Blue Monkey Roofing LLC at (337) 284-3575 and one of our experienced staff members will be happy to discuss the benefits of a metal roof and the specific options to suit your home.
Mike and the rest of the team at Blue Monkey were a pleasure to work with. As someone with a relentless calendar of meetings and calls, it's important to find someone who is willing to work with my schedule and who can communicate effectively. Mike was prompt, informative, and professional. The work was solid. They found a few spots that needed to be repaired and patched them up before throwing down the roof. After installing the gutters, they made a couple great suggestions about integrating tubing into the flower beds to promote better flow and prevent runoff. The price for the job was fair, beating out corporate competitors. I felt like my job was important to them, and it's a good feeling knowing that my money is going back into our community.
DAVIN SMITH