Blue Monkey Roofing LLC has been delivering top quality, lasting results for our satisfied clients for over 10 years. Installing gutters correctly will protect your property and avoid rainwater run-off into your foundation, landscaping, steps, and walkways. Blue Monkey Roofing LLC can install gutters and downspouts flawlessly to ensure that rainwater drains properly without damaging your home or landscape. We have experience installing and repairing both vinyl and metal gutters, so don't hesitate to call Blue Monkey Roofing LLC to install the solution of your choice.

GUTTER INSTALLATION DONE RIGHT
BLUE MONKEY ROOFING LLC PROVIDES A WIDE SELECTION OF GUTTER PRODUCTS TO CHOOSE FROM:
Seamless gutters
Sectional gutters
Aluminum gutters
Copper gutters
Vinyl gutters
Steel gutters
Stainless steel gutters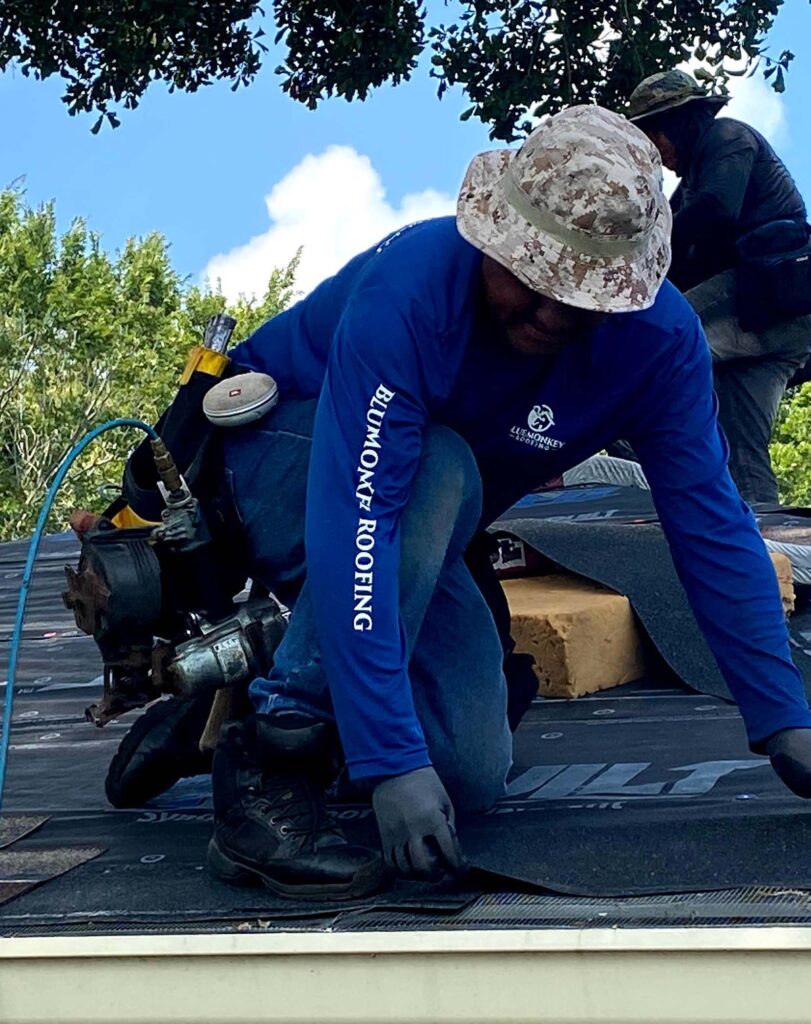 WHAT IS A ROOF GUTTER CALLED?
A roof gutter is simply called a gutter.
WHAT TYPE OF GUTTER IS THE BEST?
The best type of gutter will vary depending on the specific needs and conditions of the building and the area. At Blue Monkey Roofing, we'll recommend the best option for your specific needs.
ARE ROOF GUTTERS NECESSARY?
Gutters are necessary to redirect rainwater away from the building's foundation to prevent water damage.
HOW DO YOU CLEAN GUTTERS?
Cleaning gutters is a simple way to ensure that they are functioning properly and should be performed at least once a year for regular maintenance. Our professionals use a pressure washer to remove debris that prevents the flow of water. By preventing clogs, you can also extend the life of your gutters!
WHAT IS THE DIFFERENCE BETWEEN AN EAVESTROUGH AND A GUTTER?
The term gutter can refer to a wide variety of things, including an eavestrough! The terms can be interchangeable, but an eavestrough is what is generally thought of when referring to a gutter. The eavestrough is installed onto the eave of a home to collect rainwater and divert it away from the home. A gutter can also refer to a drainage canal or ditch.
HOW DO I KNOW IF MY HOUSE NEEDS GUTTERS?
If you notice that there's an eroded trough where the eaves of your house hang over the lawn or garden, you probably need gutters! This erosion can cause all kinds of foundation problems, and by diverting the water away from the foundation you can save yourself from costly repairs.
WHAT ARE THE PROS AND CONS OF GUTTERS?
Having gutters installed on your home has plenty of benefits, including the mitigation of erosion near the foundation of your home. This is the single most important reason for gutters! Unfortunately, gutters can affect your exterior aesthetic, get clogged, and break. Improper installation can even lead to water intrusion! With the proper installation and high-quality materials, we recommend installing a gutter system on almost every home to prevent major issues down the road.
CAN I INSTALL NEW GUTTERS MYSELF?
It's possible to install new gutters yourself, but it's recommended to hire a professional like Blue Monkey Roofing to ensure the job is done correctly and to avoid any potential hazards.
HOW ARE GUTTERS ATTACHED TO YOUR ROOF?
Gutters are typically attached to the roof using hangers or brackets, which are then secured to the fascia board. At Blue Monkey Roofing, we'll make sure that the gutters are properly and securely attached to your roof, to prevent any leaks or water damage.
WHY DO OLD HOMES NOT HAVE GUTTERS?
In the past, gutters were not as commonly used as they are today, and some older homes may not have been built with them. But today, at Blue Monkey Roofing, we make sure that every home has gutters to prevent water damage.
SHOULD I REPLACE GUTTERS AFTER A CERTAIN AMOUNT OF TIME?
The lifespan of gutters can vary depending on the type of material and the quality of installation, but it's recommended to have them inspected and potentially replaced every 10-15 years. At Blue Monkey Roofing, we'll make sure your gutters are always in top condition.
WHAT IS BETTER, 5-INCH OR 6-INCH GUTTERS?
The size of gutters needed will depend on the size and design of your home and the amount of rainfall in your area. At Blue Monkey Roofing, we'll recommend the best option for your specific needs.
DO RAIN GUTTERS GO AROUND THE WHOLE HOUSE?
Yes, rain gutters are typically installed around the entire perimeter of the house to redirect rainwater away from the foundation.
ARE VINYL GUTTERS BETTER THAN ALUMINUM?
Both vinyl and aluminum gutters have their own set of pros and cons and the best option will depend on the specific needs and conditions of the building and the area. At Blue Monkey Roofing, we'll recommend the best option for your specific needs.
OLD GUTTER REMOVAL
Removing and disposing of old gutters usually cost $2.00 to $3.00 per linear foot.
Choice of Materials: Our seamless gutters are made from aluminum. Copper is another option for a long-lasting gutter but is the costliest material used for gutters.
Upper-Story Installation: Installing gutters above the first level is more difficult, so the cost is typically $1.00 to $1.50 more per linear foot.
Number of Downspouts: Installing downspouts is the most time-consuming aspect of the work, so homes with more corners will take more labor to install.
Premium Colors: Deep, rich colors can cost more than lighter colors for aluminum gutters.
Fascia Repair: Rotted fascia must be replaced before new gutters are installed and will be an additional charge for labor and material.
Extras: Additional costs include adding gutter guards, splash blocks, rain diverters and downspout extenders.
GUTTER CLEANING & REPAIR
Leaves and debris will inevitably build-up in your gutters over time. Clogged gutters will often lead to bigger drainage problems. Nobody likes the messy work of cleaning gutters, so let Blue Monkey Roofing LLC handle the job with our capable crew! You can be assured that your gutter cleaning will be done safely and quickly.
If repairing gutters is what you need done, our crew could be there for you with ladders in hand! Whatever the issue may be…cracked gutters, loose gutters, or sagging gutters, or even no gutters at all, Blue Monkey Roofing LLC can fix the problem. You can rely on us for any gutter repair job and know that you'll get quality workmanship and customer satisfaction every time.
Michael was great to work with. He responded quickly to my needs and was out to replace my roof in least than a week. We didn't have to wait on material it was on site in 2 days. After uncovering my roof I had damage, he took care of it at very little cost. I would definitely recommend Blue Monkey to anyone, and the cost beat 4 other companies that I looked into. Thanks for everything!!!
FRANCES SWEAT