All roofs have a life cycle. Whether your roofing system has begun to fail due to age or has been severely damaged in a storm, it's time to call Blue Monkey Roofing LLC to replace your roof! Operating in Lafayette and the surrounding area since 2011, Blue Monkey Roofing LLC's trained and certified roofers are experts in replacing roofs using the highest quality materials. We provide the best customer service and unmatched quality assurance to all our valued customers! For a superior roof replacement, call Blue Monkey Roofing LLC today!

RESIDENTIAL ROOF REPLACEMENT SPECIALISTS
Your roof takes a beating from the sun, high winds, and other adverse conditions. Being constantly exposed to the elements will slowly shorten the life span of your roof. If your roof has begun showing signs of wear, including missing shingles, curled or cracked shingles, or mold/mildew growth, we strongly suggest that you call the roof replacement contractors at Blue Monkey Roofing LLC for a free, no-obligation quote! We always provide a fair, written estimate, detailed with exactly what to expect for your roof replacement.
UNMATCHED ROOF REPLACEMENT TEAM
With over 10 years of roof replacement experience, the tradesmen at Blue Monkey Roofing LLC have the knowledge and skill to ensure local homeowners that they are choosing the right contractors to replace their roof and help protect their biggest investment. As a state-licensed, bonded, and insured team of roofers, we consistently follow best practices to provide skilled and honest workmanship together with stellar customer service.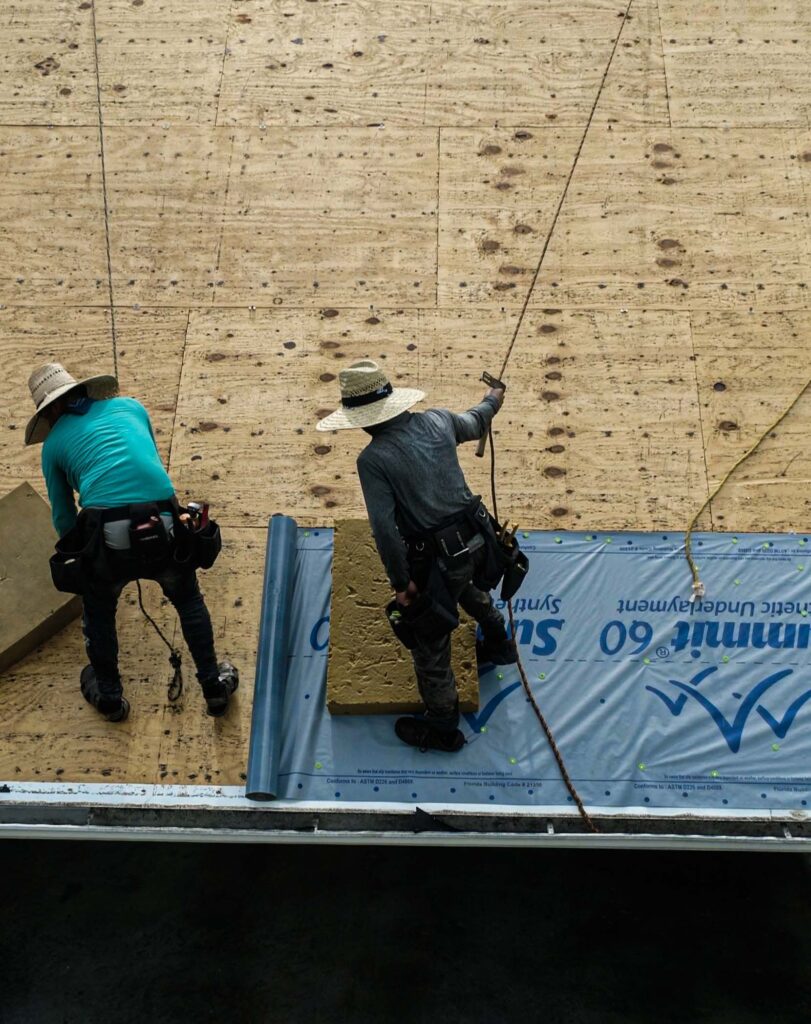 WHAT IS THE CHEAPEST WAY TO REPLACE A ROOF?
Replacing a roof is never cheap, however, there are some comparatively inexpensive options for homeowners to choose from when looking to replace their roof. Asphalt shingles are the most common and least expensive choice and come in multiple options. Three-tab shingles are the most affordable, but dimensional shingles have a longer lifespan and better warranty options. If you have questions about affordability, contact our roofing experts at Blue Monkey Roofing LLC for a FREE initial consultation!
HOW DO I KNOW WHEN MY ROOF NEEDS TO BE REPLACED?
There are some signs that you can look for when deciding if it's time to replace your roof. Be on the lookout for curling or cupped shingles, bald spots where the asphalt granules are missing, shingle cracks, dark streaks, and excessive moss or algae growth can all be indicators of a need for roof replacement. Keep an eye on homes in your neighborhood, too! Most residential developments are built within a specific time frame, so if your neighbors are replacing their roof you may need to inspect yours too! Roofing materials generally have a lifespan of about 20 years, so if your roof is nearing or has exceeded this age it may be time to replace it.
HOW DO I ESTIMATE THE COST OF A NEW ROOF?
There's no need to do the math yourself! You can call Blue Monkey Roofing LLC to get a FREE initial consultation to get an estimate for roof replacement. We have several options for homeowners to choose from, so let us customize a plan that's right for you and your home!
WHAT IS REPLACED WHEN YOU GET A NEW ROOF?
We replace the entirety of your roof when performing roof replacements, excluding certain external components like gutters and vents unless specified by the client. The old shingles are removed, and the plywood deck is thoroughly inspected for additional damage. If necessary, the plywood deck may also be replaced. New underlayment is laid, then new shingles are placed and secured for a waterproof finish.
WHEN SHOULD YOU REPLACE YOUR ROOF?
Depending on the materials, the lifespan of your roof can vary. Common asphalt shingles generally last between fifteen to thirty years. Metal roofs have a much longer lifespan, usually around 50 to 75 years, but are less affordable. We recommend people with standard shingle roofs have them inspected at least once every few years to mitigate potential problems and extend the life of the existing roof.
HOW LONG DO RESIDENTIAL ROOFS LAST?
In South Louisiana, the extreme heat and severe weather can shorten the lifespan of your roof. Wear is accelerated through wind, high temperatures, and moisture as they can cause shingles to quickly degrade. On average, residential roofs are usually constructed of asphalt shingles, which have a lifespan of 15-30 years.
WHAT COLOR ROOF LASTS THE LONGEST?
With any kind of roofing material, regular maintenance can help to extend the life of a roof. Both light and dark-colored roofing materials can last longer if they are maintained, so finding a color that works best with your home is usually most important. Call Blue Monkey Roofing LLC for a free initial consultation and see what options you have for your home!
IS IT BETTER TO DO A ROOF REPAIR OR A ROOF REPLACEMENT?
Well, it depends on the extent of the damage and the age of the roof. If the roof is on its last legs or has extensive damage, a replacement may be the way to go. However, if the damage is minor and the roof is relatively new, a repair may be sufficient. At Blue Monkey Roofing, we always recommend getting a professional opinion before making a decision.
WHAT DOES ROOF REPLACEMENT MEAN?
Roof replacement involves stripping the existing roof and installing a brand spanking new one. This includes removing old shingles, repairing any damage to the decking or structure, and installing new underlayment and shingles. It's like giving your home a fresh haircut!
WHAT SHOULD YOU KNOW BEFORE REPLACING YOUR ROOF?
It's important to know the age and condition of your existing roof, as well as the type of materials used. It's also important to understand the local building codes and any permits required. And of course, you should always hire a reputable company like Blue Monkey Roofing to ensure the job is done right!
WHAT ARE THE 3 SIGNS THAT I NEED A ROOF REPLACEMENT?
Curled or missing shingles, water damage or leaks, and excessive wear and tear are all signs that a roof replacement may be necessary. If you're experiencing any of these, give us a call at Blue Monkey Roofing and we'll take a look.
WHAT SHOULD I LOOK FOR IN AN ESTIMATE OF A ROOF REPLACEMENT?
Look for an estimate that provides a detailed breakdown of the materials and labor costs, a clear explanation of the scope of work, and a warranty for the new roof. And of course, make sure the company providing the estimate is a reputable one like Blue Monkey Roofing.
WHEN IS THE BEST TIME OF YEAR TO REPLACE A ROOF?
The best time to replace a roof is typically during the spring or fall, when the weather is mild and there is less chance of inclement weather disrupting the work. But let's be real, at Blue Monkey Roofing, we can handle any weather mother nature throws our way.
HOW LONG DOES A ROOF REPLACEMENT TAKE FOR ORDINARY HOMES?
The time it takes to replace a roof can vary depending on the size and complexity of the job, but on average it takes around 1-2 days for a standard residential roof. And at Blue Monkey Roofing, we work efficiently to get the job done as quickly as possible while still maintaining the highest level of quality.
BLUE MONKEY ROOFING LLC'S ROOF REPLACEMENT PROCESS
REMOVAL OF DEFECTIVE ROOF
We remove the old and worn shingles and nails from the roof decking, then clean the roof surface. All debris is loaded and hauled away.
DECKING PREPARATION
Once the old shingles are removed, we thoroughly inspect the decking to look for any potential problems that need to be repaired. Potential problems range from rotten wood, water damage, cracked boards, or an unsound deck that won't hold nails properly. If necessary, the decking will be replaced to ensure the structural integrity of the new roof.
WATERPROOFING BARRIER
We protect your investment and safeguard vulnerable areas of your roof by installing an extra waterproofing material that provides a secondary layer of protection in valleys, protrusions and flashing areas. This extra waterproofing creates a strong, moisture-proof barrier that provides continuous protection year after year.
UNDERLAYMENT
We install synthetic underlayment that is strong, durable, repels water, and helps prevent moisture from reaching the roof deck. Synthetic underlayment is 12 times stronger than standard #30 paper felt and offers excellent wind resistance and durability through heavy roof traffic and adverse weather conditions.
STARTER COURSE SHINGLE
We install the manufacturer recommended starter course shingles on most roofs for extra wind protection. The starter course is very important because it insures and effective seal between the starter and the first course of shingles. These starter shingles are the first line of defense against wind uplift along the edges of a roof, allowing for a straight edge along the eaves and rakes.
PROPER SHINGLE NAILING
Nailing errors, such as under-driven or angled nails, can cause future problems with your shingles and roof system. Nail type, location, length, angle, and force of application are all critical when installing shingles. We install more properly driven nails than the manufacturer's installation requirements for better wind resistance and a stronger overall roof system.
VALLEY PROTECTION
Valleys are one of the areas of the roof system that takes careful planning and time to install correctly, since they are a prime leak vulnerable area. It's important to be precise during valley installation, and we have the experience to create a waterproof valley on any roof.
FLASHING
Flashing is installed to direct water away from critical areas of the roof, wherever the roof plane meets a vertical surface like a wall or dormer. Flashing is also installed to surround roof features such as vents, chimneys, and skylights. Flashing is necessary for waterproofing these critical areas of your roof, and we inspect all flashing and replace or repair any that may be damaged or worn.
VENTILATION
Proper ventilation is critical for helping to reduce hot and moist air in your attic space that can damage your possessions, increase your energy costs, and potentially reduce the longevity of your roofing system. There are several different ventilation options that work well depending on the size, style, and type of roof system. Our certified representatives will discuss the most efficient options with you.
RIDGE CAP SHINGLES
Hip or ridge cap shingles are not only a great finishing touch to your roof, these shingles are also a critical component that helps to protect some of the most vulnerable areas on your roof. We install the manufactured hip and ridge shingles on all dimensional roof systems that meet or exceed the manufacturer's warranty requirements.
CLEAN UP
Our installers will use tarps to collect as much debris as possible to protect you, your family, and your property. We use a dump trailer to haul the debris off daily, and perform daily magnet sweeps to collect nails throughout the roofing process. We will perform a final inspection and finalize clean up after the roof is installed. Once we're gone, it should look like nobody was ever there!
HOW LONG WILL IT TAKE?
The average roofing project takes between 1 to 2 days to complete depending on the size and complexity of the roof and weather conditions. We will work with you to complete your project within the most reasonable time frame as possible.
Michael and his crew started on my roof about 7am Saturday morning,and they were done by 6:30 that afternoon. I couldn't have asked for a more professional job,and they were thorough in their work. Top level work=Top notch results. Thank you so much Michael–Your help and dedication to replacing my roof is GREATLY APPRECIATED!
JOHN STATEN