Leaking roof? Missing or broken shingles? Damaged gutters or downspouts? Don't let a small problem turn into a bigger and more expensive repair! Call Blue Monkey Roofing LLC, Acadiana's premier roofing company, to fix all your roofing issues. Our friendly, knowledgeable, and experienced crew at Blue Monkey Roofing LLC will work with you to ensure that your roof is repaired quickly and properly.
Blue Monkey Roofing LLC's contractors perform roof repairs for a variety of roof types. Do you have curling roof shingles, damaged slate, or cracked roof tiles? Do you need flat roof repair? Whether it's repairing a few shingles or replacing an entire roof, our experienced tradesmen fix and restore roofs right the first time. Protecting your home from the elements is what we do! We can match any material, color, and style. Don't hesitate to call Blue Monkey Roofing LLC once you see the first sign of roof damage to get a quote!

PROFESSIONAL ROOF REPAIR SERVICES
Our commitment to top-quality customer service shows through our guarantee that we will repair your roof to your utmost satisfaction and at a fair price. Find out today how Blue Monkey Roofing LLC can repair your roofing issues!
Call (337) 284-3575 if you suspect you have any of these roof problems:
Leaky Roof
Blistered Shingles
Curling Roof Shingles
Broken Slate Tiles
Cracked Shingles
Cracked Roof Tiles
Pounding Water
Buckling Shingles
Ice Dams Rotting Wood
Poor Roof Drainage
Roof Punctures
Roof Moss & Algae Growth
Roof Stains
Leaky Ceiling or Ceiling Stains
Granule Loss on Shingles
Damaged Flashing
Damaged Gutters
Broken Roof Vents
Damaged Downspouts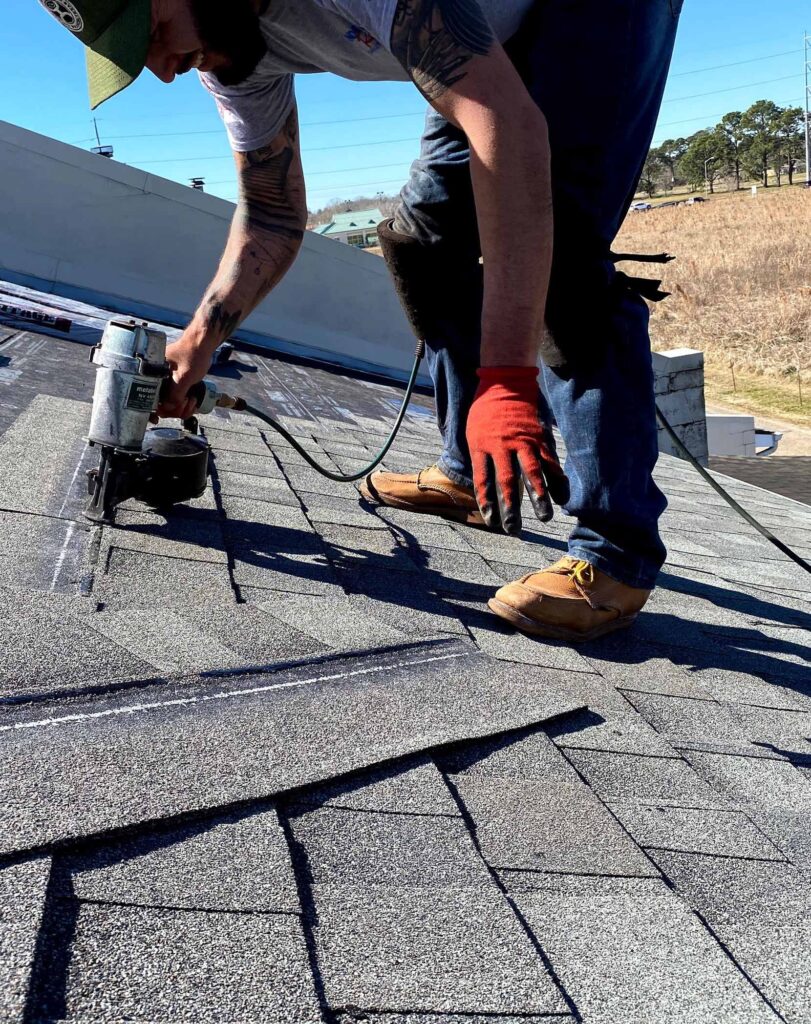 HOW MUCH DOES IT COST TO REPAIR A ROOF LEAK?
Final costs for roofing repairs can vary widely depending on the age of the roof, the preexisting damage, and other factors. Most roof leak repairs can range from $350 to over $3,000, but this number is not set in stone. The cost of materials can cause prices to fluctuate, however, this is usually negligible. The size of the repair directly impacts the final costs, so smaller repairs generally fall on the lower end of this range. You can get a FREE initial consultation from Blue Monkey Roofing LLC to evaluate your roof and get a quote for repairs today!
HOW DO I FIX A LEAKY ROOF?
A leaky roof can be caused by a variety of factors, such as missing or damaged shingles, worn flashings, or clogged gutters. At Blue Monkey Roofing, our professionals will be able to identify the cause of the leak and make the necessary repairs.
CAN YOU FIX YOUR OWN ROOF?
Just because you can doesn't mean you always should! Professional roofers have experience in dealing with roofing problems and repairs, as well as navigating all kinds of rooflines safely. An unskilled or uninformed homeowner can seriously injure themselves or severely damage the most important functioning aspect of your home, and taking that risk isn't worth it! Call the professionals at Blue Monkey Roofing LLC for a free consultation, top-quality craftsmanship, and superior customer service.
WHY ARE ROOF REPAIRS SO EXPENSIVE?
The cost of roofing materials has skyrocketed over the past several years, and the prices just keep rising. On top of materials, the cost of labor has also risen over the past few years. Quality craftsmen who can perform the task are few and far in between, so the cost of securing those skilled laborers has also risen. These rising costs have had a direct impact on the prices for consumers, but at Blue Monkey Roofing LLC we try to work with all our clients to make an affordable solution for their needs. We provide tradesmen with the experience and skill to get the job done right, and we work directly with manufacturers to reduce costs without neglecting quality.
CAN I CLAIM FOR LEAKING ROOF ON MY HOMEOWNERS' INSURANCE?
When your roof has been damaged due to a storm, wind, or a hurricane, you've got plenty to deal with. If you've been a victim of storm damage, the last thing you'll want to deal with is spending large sums of money to replace your roof. If you have roof repair insurance, we can help you file a claim! Blue Monkey Roofing LLC has over 10 years of experience with helping homeowners and businesses navigate the paperwork and processes necessary to file a claim with their insurance carriers and seeing the process through from start to finish.
WHAT ARE THE MOST COMMON TYPES OF ROOF REPAIRS?
Common roof repairs include patching leaks, replacing missing or damaged shingles, and repairing flashing around vents and chimneys. At Blue Monkey Roofing, we've seen it all and can handle any repair you need.
IS IT WORTH PATCHING A ROOF?
Patching a roof can be a cost-effective solution if the damage is minor and the roof is relatively new. However, if the roof is near the end of its lifespan, it may be more cost-effective to replace the entire roof. At Blue Monkey Roofing, we'll provide you with the best advice to suit your needs and budget.
WHAT ARE SIGNS TO LOOK OUT FOR THAT YOU NEED A ROOF REPAIR?
Signs of a roof in need of repair include missing or damaged shingles leaks, and excessive wear and tear. Keep an eye out for these red flags and give us a call at Blue Monkey Roofing if you suspect any issues.
CAN YOU REPAIR JUST ''PART'' OF A ROOF?
Absolutely! It's possible to repair just a portion of a roof, such as replacing a few missing or damaged shingles. At Blue Monkey Roofing, we'll give you a honest assessment and repair only what needs to be repaired.
WHAT ARE SOME OF THE MATERIALS USED IN ROOF REPAIRS?
Common materials used in roof repairs include shingles, flashing, sealants, and underlayment. And at Blue Monkey Roofing, we only use the best quality materials for all our repairs.
WHAT TIME OF YEAR IS BEST TO SCHEDULE A ROOF REPAIR?
Spring and fall are the best times to schedule a roof repair, as the mild weather allows for optimal working conditions. But don't let that stop you from calling us at Blue Monkey Roofing, we're always ready to help, rain or shine.
WHAT TYPE OF ROOF LASTS THE LONGEST?
Asphalt shingles are the most common and popular roofing materials, and with proper maintenance can last up to 20-30 years. And at Blue Monkey Roofing, we'll make sure your roof lasts as long as possible.
ARE THERE DIFFERENT TYPES OF ROOFS BEST FOR THE DIFFERENT REGIONS OF THE U.S.?
Different regions of the U.S. can have varying weather conditions, and as a result, different types of roofs may be better suited for those conditions. At Blue Monkey Roofing, we have experience working with all types of roofs and we'll be able to recommend the best option for your region and specific needs.
ROOF REPAIR IS OUR SPECIALTY!
Don't let leaks, missing shingles, or minor damage to your roof go unattended. These minor issues can turn into expensive problems! Call the affordable contractors who can fix your roof right the first time. Blue Monkey Roofing LLC will repair roof problems of any size. Schedule a no-obligation consultation with the pros at Blue Monkey Roofing LLC to get a fair and reasonable quote to resolve your issues today!
Blue Monkey Roofing was speedy, professional, and super accommodating. The inspection reports were a retired high school English teacher's dream- clear, well-presented information. Michael was easily accessible, a great communicator, and inspired a level of comfort and confidence that I have not felt with many. He went the extra mile to find shingles in a color that many said were unavailable. The work was done quickly, neatly and the end result is superb. It was a pleasure doing business with Blue Monkey – they have my highest recommendation!

ANNA MARQUARDT